News > Export News
Handicraft craft: "two no"
( Update: 24/04/2019 )
TT - Price decreases, demand for goods in many export markets is also reduced, many enterprises (enterprises) export handicraft products (handicrafts), rattan ... are forced to suspend production. Without a job, the workers who only live on their knitting hands are being pushed into the misery.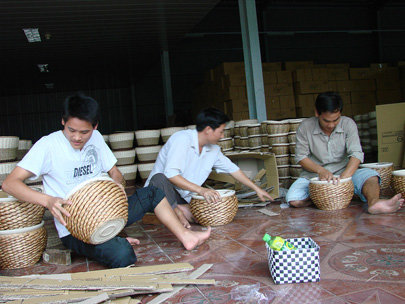 Knitting baskets for export with hyacinth materials in Hiep Luc Cooperative (Bien Hoa, Dong Nai) - - Photo: Le Son
"Young people, getting a new job is easy. I am old, whoever gets into it. Now I have to borrow temporary money "- Mrs. Tran Thi Nam, a craftsman who has worked for many years in bamboo and rattan industry in Di An, Binh Duong, lamented. More than 60 years old, living with an unmarried son, also doing this job, both mother and daughter are in "two no" condition: no job, no income.
"I don't eat Tet"
Mrs. Nam said that her family's life is entirely based on the weaving of bamboo and rattan products, because the orders of the sample are available for export. The average daily income is only VND 50,000 - 60,000. But from the end of September 2008, the work has lessened. Without regular jobs, the mother and daughter made enough to spend. And from mid-November until now, the clues ordered, hired workers to produce goods exported to Europe have stopped. "At the end of the year, there is no job like this, I must not eat Tet" - Mrs. Nam was sad.
In the same situation, Mrs. Le Thi Khanh, a bamboo weaver, a bamboo worker at Bay O basket farm (Cu Chi, Ho Chi Minh City), said that he used to earn about 50,000 VND a day. But a month ago, this basket farm stopped working. The house has no paddy fields, so she buys materials for home knitting, waiting for sale to other purchasing baskets. But doing this for a whole month, there is no buyer to greet. "There are a few people who agree to buy again and can't sell because they ask for a discount of nearly VND 2,000 / unit, only VND 2,500 for each basket. Such price is not enough to buy raw materials but not to do the work "- Ms. Khanh lamented.
Ms. Nguyen Thi Luong, director of Hien Luong Fine Import and Export Co., Ltd., Ha Tay (a unit specializing in producing, trading and exporting products made from rattan, bamboo, rush, and water hyacinth to Eastern Europe) is redundant. When export slowed down, craftsmen were the most disadvantaged. Because the majority of exporters of this product are currently doing the way of ordering, purchasing in the people, not "raising" direct production workers. If this situation continues, many young "hands" will quit their jobs.
From 30 to 2
Explaining about having to leave many workers on leave, Mr. Le Dinh Trong Nghia, manager of the Bay O basket, said that every month this establishment exported to Taiwan about 13-14 containers, now customers do not sign any new contract for 2009. The whole camp has more than 30 workers, now there are only two people left. "They do another two days, the rest of the materials are gone and not to be made until Tet. This situation is still very difficult "- Mr. Nghia worried.
Meanwhile, many cooperatives (exporting cooperatives) export handicrafts that they have started to face difficulties since the beginning of 2008 due to rising prices of raw materials, labor, high interest rates, tight production capital. .. Only the price of raw materials in this year has increased by 40-50% ... Specifically, the price of leaves from 6,000 VND to 10,000 VND / kg; materials of sedge, water hyacinth, bamboo increased from 2,500 VND / kg to 3,000 VND / kg on average ... Ms. Luong Thi Thuy, Chairman of Hiep Luc Cooperative (Bien Hoa, Dong Nai), said to the end of the month In the past ten years, the cooperative has struggled to export only VND7 billion while last year it was VND12 billion.
According to Nguyen Thi Luong, currently the company's export volume has decreased by more than 50%. Previously, the company exported 2-3 containers per month, now only one container can be exported. In 2009, the situation will continue to be difficult. Many overseas Vietnamese in the former Soviet Union often buy handicrafts items, saying they will not buy anymore. An enterprise exporting handicrafts to the EU also said that importers have reduced 70% of goods. Not only that, they also forced a price cut of more than 30% and most likely at least half a year later, they continue to cut down on goods.
Back home
As the export market continues to be difficult, many enterprises have "sheltered storms" by returning to "home ground", exploiting the domestic market. Mr. Phan Van Minh - owner of a shop selling handicraft items such as flower baskets, chairs, fruit baskets ... made of rattan and bamboo materials in Ho Chi Minh City - said recently a lot of businesses came to offer. product. They offer pretty good models, relatively "soft" prices so instead of having to "hunt" a nice source like before, this shop has many choices.
Although the purchasing power this year was weaker than last year, it was still sold because the demand for shopping for handicraft items at this time is often the biggest in the year. Therefore, if efforts to find good designs, more reasonable selling prices, domestic handicrafts goods can "encroach on" in the domestic market, compete with Chinese handicrafts and target customers with stable incomes. international tourists.
Many businesses said that in order to overcome difficulties, besides their "self-swimming" efforts, the Government should support businesses through bank loans with preferential interest rates. Under the burden of interest rates, businesses will not be pressured to compensate for the price of products due to interest rates by reducing the purchasing price in the current population.