( Update: 29/07/2019 )
On September 5, in Thai Nguyen province, the Center for Trade and Trademark Development (Vietnam Craft Village Association), in collaboration with Thai Nguyen Department of Industry and Trade, organized a workshop to improve craft industry competitiveness. Fine arts in the integration conditions with the participation of nearly 200 delegates who are leaders of departments, branches and representatives of a number of trade villages, trade villages and cooperatives and numerous artists in and outside the province.
Speaking at the seminar, Mr. Dang Huy, Head of Development Research Association of Vietnam Craft Village Association, said that our country's handicraft is one of the sectors with great potential for sustainable development. big export and high profit margin.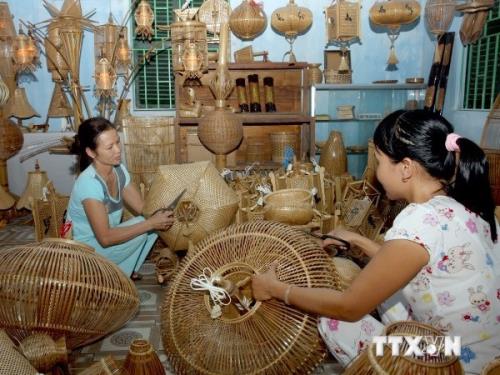 Handicraft goods in our country are falling due to monotonous designs. Artwork: Dinh Hue / TTXVN
However, nowadays, handicraft products in our country are being downgraded due to monotonous designs, higher prices than some countries in the region such as Indonesia, Philippines, Thailand, China ...
Therefore, the difficulty for the domestic handicraft industry is competitiveness. Prices of handicrafts of our country exported to the United States, Japan, EU ... cannot compete in price compared to some countries in the region.

Facing this situation, at the Conference, participants discussed and focused on solutions to improve the competitiveness of handicraft products, as necessary to link the construction of production clusters; raising awareness and awareness for people about branding; There should be strict management measures, anti-counterfeiting and counterfeit goods, and protection of creative and unique ideas of artisans; oriented in handicraft production, distinguish between craft products to meet the market's tastes in large quantities, reasonable prices with sophisticated and high-class products; diversify items and export forms ...
According to Mr. Bach Quoc Khang, Vice Chairman of the Advisory Council of Vietnam Craft Village Association: "Improving the competitiveness of handicraft enterprises in our country is an urgent and vital issue for Rural economy in particular, socio-economic of the country in general. In order to solve this problem, there is a need for the participation of both society, enterprises, people and the state in institutional reform, facilitating the development of private enterprises, financial support for enterprises anddevelopment. supporting industries and infrastructure, building link models ...
In addition, the provincial, district and commune authorities should pay attention to and create conditions for enterprises to operate, do well the planning and support the organization of production-consumption and processing links. the protection of ecological environment in combination with the construction of new rural areas, creating a living area worth living in order to strengthen tourism links and promote local brands ... ".
In order to enhance the competitiveness of handicraft products of Vietnamese enterprises, Artisans Ha Thi Vinh, Director of Quang Vinh Ceramics Co., Ltd. shared: "In the context of integration, enterprises in All countries are subject to significant impacts in production and export. However, to overcome difficulties and return to stable development, my business has implemented three main solutions including research and application of science and technology to improve product quality and innovation. many new product lines; improve human resource management; rationalize in the production process. Currently, 95% of the company's products are exported to the markets: Japan, Australia, USA, Germany, England, France, Denmark, Sweden, Netherlands, Spain ... "
In order to encourage the handicraft industry in general, especially the handicraft villages to develop, many delegates attending the workshop said that there should be a drastic change in production methods in craft villages. At present, by applying science and technology to production on the basis of retaining the cultural factors of blank transmission in products.
Besides, it is necessary to establish new cooperatives, creating a bridge between individuals and collectives in craft villages to create a sustainable link in production and consumption processes such as capital, raw materials, and product promotion. , market ...

According to data of Vietnam Craft Village Association, the country currently has nearly 5,500 trade villages, creating a large value of goods but not linking the stages in the value chain from design and supply. supplying raw materials to production and consumption, making low income of producers and intermediaries benefiting greatly. This makes our handicraft industry still not really confirmed its position in the world market both in terms of export value and brand name.