News > Export News
The Traditional Villages Make Up The Shape Of Hoi An
( Update: 30/09/2019 )
On the S-shaped strip of land named Vietnam, there are traditional villages everywhere with many unique and sophisticated products. However, the craft villages in the ancient town of Hoi An still bring emotional repercussions in the hearts of visitors because it is hidden in the ancient, manic layers of the ancient land. On today's trip, join Mytour to find traditional villages to touch the depths of Hoi An's soul, will you?
1. MOC KIM Bong Bong
An ordinary, ancient Hoi An with a peaceful house - Photos: mucdong
Kim Bong carpentry village is located on the land of Cam Kim today, visitors take only 10 minutes by boat from Hoi An ancient town to the village. As soon as you set foot on this land, you heard the chisel, drill cut from the East-West banks. These sounds have become an indispensable part of the lives of people associated with the trees here.
Talented, skillful artisans - Photo: Collectibles
Coming to Kim Bong carpentry, visitors can feel the silhouette of a gentle, rustic but equally delicate Hoi An on handmade products. The motifs on each pillar and rafters are images of flowers and leaves, soft and flexible.
The roots suddenly become alive and lively - Photo: Xuan Nguyen
The lively, attractive works - Photos: Collectibles
Although Kim Bong carpentry products are not widely sold, wooden lovers still come to Kim Bong to order an old house, a set of tables and chairs. And somewhere in the quiet town of Hoi An, there are always the talented figures of carpenter Kim Bong here.
2. THANH HA CERAMIC PORT
Thanh Ha Pottery Village is located on the bank of Thu Bon River, located in Thanh Ha Ward, Hoi An City, about 2km west of the Old Quarter. Coming to Thanh Ha pottery village, you can easily tell by the way, the corner of the yard and the roof of tiles are made from earthenware. A peaceful feeling with the green space of the areca tree in front of the alley and the newly formed ceramic products being sun dried.
Familiar image in Thanh Ha pottery village - Photo: iLongNK
See more: 3 star hotels in Hoi An
The main products of Thanh Ha workers are utensils for daily life such as bowls, bowls, jars, jars, pots, shapes of animals ... with many styles and colors. and especially lighter than similar products of other localities. Perhaps in part thanks to the clay of the Thu Bon river fostering and skillful hands of Thanh Ha craftsman.
Pottery also brought in a separate, unique life - Photo: Xuan Nguyen
For many centuries, with the bold colors of the time, Thanh Ha pottery village is still peaceful on the banks of the Thu River, the Thanh Ha worker silently sings the song of terracotta, the fire with his hands. how much hard life ...
Hoi An is always quiet and simple like that - Photo: K_tran
3. VILLAGE DONG PHOC PHUOC KIEU
With a life of more than 400 years, Phuoc Kieu copper casting village from ancient times has been closely associated with Hoi An people. The generations of village artisans, despite having difficulties in difficult economic times, still passed on the fire of their father's profession. From daily-life products, to high-class fine art articles, artisans are beautifully crafted and beautiful by Phuoc Kieu artisans.
Traditional bronze casting village in Hoi An - Photo: Collectibles
The gong and fried of the Central Highlands country also originated from this village. The technique of taking instrumental music is a specific feature of Phuoc Kieu village, so it is possible to distinguish musical instruments from here and there. Phuoc Kieu craftsman must have experience with sensitive ears, as well as experience to perceive sound subtly to manipulate the sound of a unique musical instrument, suitable for each ethnic region.
In recent years, the products of the village not only exist in most domestic markets but also reach the world market, bringing the image of Hoi An to far-away lands.
Bronze statue is one of the souvenirs not to be missed when visiting Hoi An - Photos: collectibles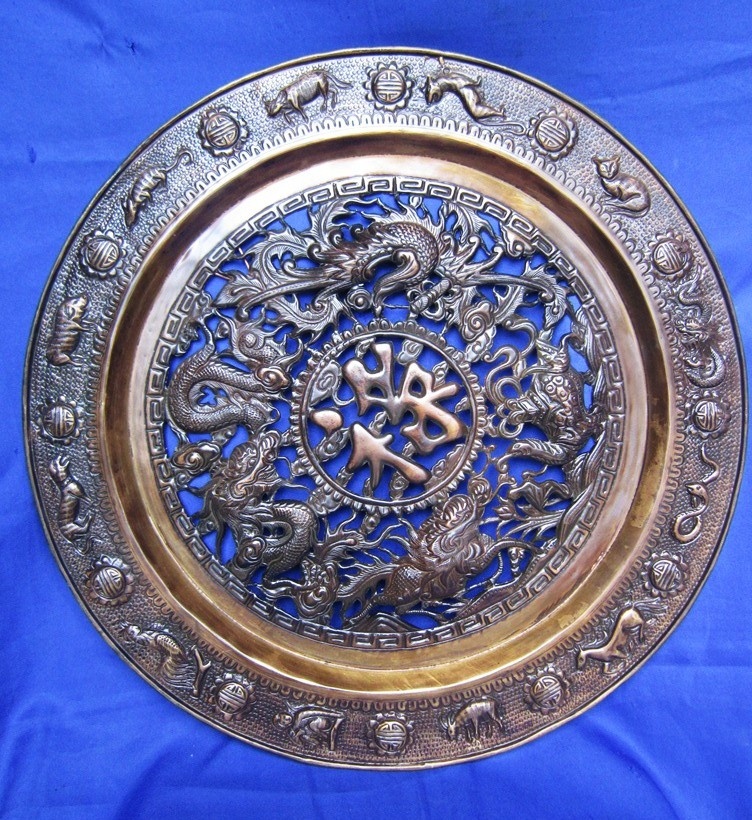 Very sophisticated products - Photo: Collectibles
4. VEGETABLE VEGETABLE TEA
Tra Que traditional vegetable village in Cam Ha commune (2km from the center of the old town) has long been famous for many vegetable products grown on fertile soil, fertilized with algae taken from Co Co River, so it has a special flavor. featured. Moreover, this is also an attractive destination for domestic and foreign tourists.
Peaceful Tra Que Village - Photo: Khanh Tam
From the past until now, Tra Que vegetable village is famous for having over 20 types of leafy vegetables and spices, especially many kinds of vegetables that are nowhere near as delicious as basil, é, perilla, etc. vegetables together will meet 5 spicy, sour, sweet, bitter, acrid taste. Thanks to that special taste, Tra Que vegetables have contributed to famous popular typical dishes of Hoi An: mixed mussel, Quang noodles, high floor ...
A very different angle of Hoi An - Photo: Khanh Tam
See also: Cheap Quang Nam tours
Visitors after wandering moments on the ancient old town often come to Tra Que. Besides looking at the lush green vegetable fields, learning about the technology to produce delicious vegetable varieties of the villagers, visitors also join hands with the people to fertilize, irrigate and enjoy a peaceful setting, quiet on the crows of the cuckoo resounded in the countryside of Hoi town.
This place brings a strange gentle feeling - Photo: Khanh Tam
5. VOCABULARY LAMP
The image is very familiar and warm in the ancient town of Hoi An - Photo: Phan Huu Lap
The shimmering lanterns in the ancient town of Hoi An are images associated with the ancient city, which is a part of the form, space and soul of the ancient town of Hoi An. However, the craft of making lanterns in Hoi An does not have a specific guild space, a "craft village", but only long-standing manufacturing facilities scattered such as Tuoi Ngoc, Ngoc Thu or the workshop of artisan Huynh Van Ba.
The lanterns featured Hoi town - Photo: Lan Nguyen
Looking at the lantern looks simple, but to make a beautiful, perfect lantern is a meticulous process, from designing the shapes to selecting materials, colors, paintings and techniques. assembly ... The lantern worker must have the love for the job and the passion for creativity to be able to send his whole heart into the work, blow soul into each product, turn each lantern into a real work of art. .
The worker truly breathes into each lantern - Photo: Nguyen Thai
Every afternoon, when the end of the day's sunshine turned off to reveal a red horizon far away, the ancient town of Hoi An began to light up with a soft, warm yellow light and all that light under the frames. Different lantern fabric creates a harmonious whole as a picture of medium color, genuine, casual and warm.
Hoi An - a quiet and peaceful old town - Photo: Yen Nguyen
Visiting traditional villages in the ancient town of Hoi An that Mytour has introduced may give you a new perspective on the peaceful land along the gentle Hoai River with the heavy streets of this time. When you find the traditional villages here, you have touched a part of the soul of the quiet, ancient Hoi An!