People in Ben Tre often liken craft villages to make coconut fiber only on the Thom River, in the territory of An Thanh commune, Mo Cay Nam district, Ben Tre province as a floating market because every day the boat dockes and leaves the port full coconut and coconut products. In particular, coconut market operates all day and night, the atmosphere is always busy and bustling.
Thom River is also called Mo Cay canal which was dug in 1905, is a waterway route between Ham Luong River and Co Chien River. In recent years, production and service facilities of the village only coconut fiber on the Thom River operate like coconut market.
Craft making coconut fiber comes from An Khanh commune, then spread to the other side of the river - Khanh Thanh Tan commune (Mo Cay Bac district). Today, both sides of the Thom River not only produce coconut fiber, but also develop a number of jobs such as coconut peeling, buying and selling fruit coconut, chopping coconut, spinning coconut fiber ...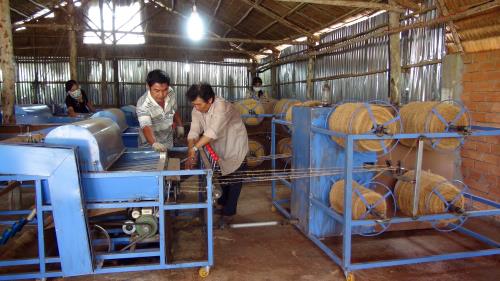 People

in Mo Cay Bac district, Ben Tre province will

only coir. Photo: Tran Thi Thu Hien - VNA
Visiting the village to make coconut fiber , everyone likened this to a floating coconut market on the river because every day, boats swept all over the province and neighboring provinces like Tien Giang, Tra Vinh and Vinh Long to purchase coconut fruit. transport to trade village.
An Thanh coir village only concentrates in Vinh Khanh hamlet, formed in about 1980. "At that time there were only two establishments, so far the village has 43 establishments, 6 companies and a specialized enterprise. export only coconut fiber, only baled coconut coir, squeeze acne only coconut fiber ...
Craft villages attract more than 1,000 workers in the commune and neighboring communes to process coconut products such as: chopping coconut rice, drying coco peat, peeling coconut, ... On average, each employee earns about 150,000 VND. / day or more, "said Pham Van Minh, Party Secretary of Vinh Khanh hamlet.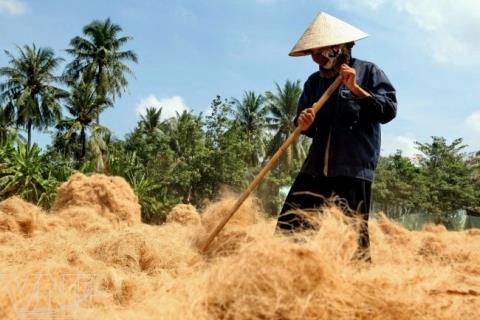 Expose only the coconut of the people in An Thanh village. Photo: sovhttdl.bentre.gov.vn
Ms. Nguyen Thi E, An Thanh commune worked as a coconut peeler for 3 years at Mrs. Nam Nguyet's office, sharing her daily work of peeling coconut rice in about 4 hours, cutting 200 kg of coconut, earning about VND 110,000 / day. Young people do more. If there is a lot of coconuts, every day I work, I can only take a day off on Sundays.
In craft villages, female workers often take care of drying only, scraping coconut rice, slashing and drying. Young men are tasked with peeling coconuts, loading and carrying out heavy work. However, the peeling of coconut is no longer a male business.
Coming to the craft village, the cross-country visitors will encounter many female workers who also take part in peeling coconuts and make them as fast and professional as the brothers and uncles. The coconut peeling tool is an iron knife built into a stable pillar. Each coconut is fast and proficient hands to put on the tip of the knife and pry out, peel the shell easily.
Vo Van Cu, An Thanh commune has 20 employees, of which female workers account for half. Looking at the women who are separated by coconut shells, they think that this job is very simple, but "to do this job, it takes a long time for her to learn, when her hand aches, her shoulder aches, and her Not quick to peel off "- Ms. Pham Thi My Hanh (40 years old) said.
Dry coconuts, after being purchased, are separated from the shell for sale only to coconut fiber, coconut seeds (Ben Tre people, including coconut, coconut and coconut water) are sold to wholesalers everywhere In the craft village on the banks of the Thom River, there are dozens of establishments buying coconuts and coconut shells.
Every day, each facility buys about 10,000 dried coconuts, peak months (from October last year to April next year), each buying about 14,000-15,000 dry coconuts every day. Every day, each facility produces about 4-5 tons of coconut fiber, the annual output is over 350 thousand tons of coconut fiber only. After being collected, coconut shells are put into the machine to be beaten and taken only.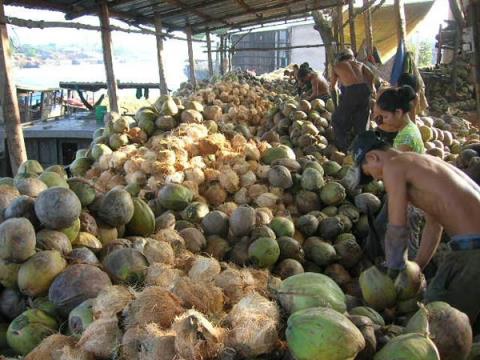 The farmer diligently worked on coconut peeling on the Thom River. Photo: sovhttdl.bentre.gov.vn
Only coconut fiber is used for many different jobs, but mainly to make cars only for weaving. Every facility has 1-2 coconut shell crushers, which are usually operated at night because at that time the electricity is strong but the price is low. On average, 4-5 units of raw coconut shells produce 1 kg of finished coconut fiber. On average, each coconut fiber production unit purchases hundreds of thousands of raw coconut shells from people.
About 5-7 years ago, the item of coconut coir carpet developed, has been exported to some countries, thanks to which An Thanh and Khanh Thanh Tan craft villages have prospered. Thanks to this village, the life of the people in the craft village is also better.
Ms. Luong Thi Ngoc Chien, Vice Chairman of An Thanh Commune People's Committee shared: It is good that since the establishment of coconut fiber production and coconut peeling on the banks of the Thom River has come into operation, the people here are very excited because craft villages generate a significant source of income for households, improve the lives of people, contribute to poverty reduction and promote the process of economic restructuring of the locality in a positive direction.
In 2008, Vietnam Craft Village Association awarded the title of typical village to two villages producing An Thanh coconut fiber (Mo Cay Nam) and Khanh Thanh Tan (Mo Cay Bac) of Ben Tre province./.